Save Your Smile with Efficient Root Canal Therapy
If you are suffering from a dental infection or serious structural damage to your tooth, you may require root canal therapy at our Bloomington, IL, practice. This treatment can eliminate diseased pulp from inside your tooth and simultaneously strengthen the outside. Thus, it can save a significantly damaged tooth and restore your oral function at the same time. Dr. Jay W. Chrisman, Dr. David Wyse, and the staff at Wyse Family & Cosmetic Dentistry understand that many people are apprehensive about root canal therapy. As a result, we work hard to make our treatment as comfortable as possible by utilizing advanced technology to provide incredibly precise care that will have minimal impact on your tooth. Additionally, we administer effective local anesthesia, meaning you can relax and remain comfortable throughout the course of your treatment.
Is a Root Canal Right for You?
Dental infection is the most common reason that we recommend root canal therapy, also known as endodontic treatment. When left untreated, oral bacteria can move from the surface of your tooth into the softer layers of porous tissue. From there, it can eventually penetrate the central chamber of your tooth, which is filled with a soft pulp. The soft pulp of your tooth houses nerve endings and blood vessels, which run parallel to your dental roots through the root canals. As infection worsens, therefore, it can spread along these pathways, causing numerous symptoms. You are likely a candidate for root canal therapy if you are experiencing any of the signs of infection, including:
A toothache (particularly one that worsens with pressure or cold temperatures)
Throbbing pain along your jaw and into your ears
Sores, or abscesses, on your gums
Dark stains that appear inside your tooth
Chronic bad breath
Occasionally, root canal therapy can repair a cracked tooth if the crack does not extend past the gum line. Dr. Wyse or Dr. Chrisman can use our advanced digital x-rays to make sure that the procedure is suitable.
Endodontic therapy is typically the most efficient, affordable, and conservative way to address dental infection.
What to Expect during a Root Canal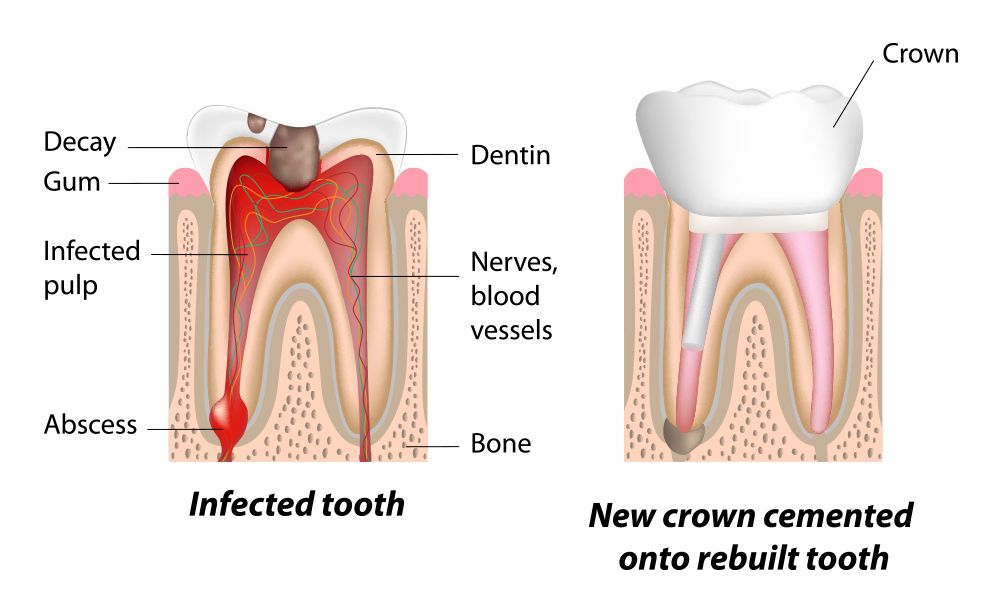 Prior to beginning root canal therapy, your dentist will numb your tooth and gums. With our local anesthetic and modern advances in endodontics, root canal therapy generally involves little more than a gentle sensation of pressure. Once the anesthetic has taken full effect, Dr. Wyse or Dr. Chrisman will create a small opening in your tooth. From there, your dentist can remove the infected pulp and reshape the interior of your tooth and root canals. Next, your dentist will fill your tooth with a material called gutta percha. This soft filling acts as a sealant and prevents additional infection from developing in the future.
Of course, dental infection can also weaken the outside of your tooth. To restore its normal function and healthy appearance, Dr. Wyse or Dr. Chrisman will first reshape the exterior. Using the iTeroTM digital scanner, your doctor will take remarkably accurate 3-D impressions that will aid our partner lab in creating a restoration with a near-perfect shape and fit. Made from color-matched materials, your dental crown will blend in with the rest of your smile. Dr. Wyse or Dr. Chrisman will attach the completed crown, securing it with durable composite resin.
The Benefits of Root Canal Therapy
Your root canal can have far-reaching effects for your smile, oral function, and long-term health. First, the treatment can quickly ease your toothache and other symptoms. You will likely notice a dramatic and almost immediate relief from your chronic pain following root canal therapy. Your treatment can also improve the appearance of your smile as soon as the crown is in place. Similarly, after your second appointment to restore your crown, you can once enjoy complete dental function.
Without root canal therapy, you will likely need to extract your infected tooth. Though this might initially seem simpler, it would actually necessitate additional treatment. After the extraction, you would then require significant restorative care to ensure optimal oral health. Additionally, your restoration is unlikely to be as strong as your natural tooth, even if you choose advanced dental implants. Therefore, endodontic therapy is typically the most efficient, affordable, and conservative way to address dental infection.
Schedule Your Consultation at Wyse Family & Cosmetic Dentistry
If you are suffering from the symptoms of an infected tooth, book an appointment to find out if you are a candidate for root canal therapy. You can schedule your consultation by contacting us online or by calling (309) 663-6393 and speaking with a member of our staff. You can also explore our patient reviews to learn about the level of care we provide.