Catch Issues Early with an Oral Cancer Screening
According to the American Cancer Society, nearly 50,000 individuals will be diagnosed with oral or oropharyngeal cancer this year. Statistically, about 9,700 of these cases will end in fatality – and most of these will be due to late detection. When diagnosed early, oral cancer is quite treatable. At our Bloomington, IL, practice, Drs. David D. Wyse and Jay W. Chrisman perform an oral cancer screening as part of every dental exam and can detect malignant tissue early on, reducing your risk of complications.
Who Is at Risk for Oral Cancer?
There are several different factors that can increase a patient's chances of developing oral cancer at some point in their lifetime. These include:
Tobacco use: Unsurprisingly, tobacco use is the number one risk factor for oral and oropharyngeal cancer. Approximately 85 percent of all oral cancer cases are linked to smoking and the use of chewing tobacco. Even secondhand smoke can increase an individual's risk for oral cancer.
Heavy alcohol consumption: Those who consume alcoholic beverages frequently have a much higher risk for oral cancer. Patients who drink and smoke together increase their risk even further.
Prolonged sun exposure: Lip cancer is most frequently linked to unprotected sun exposure. When heading outdoors, be sure to apply plenty of sunscreen and wear protective clothing, such as a wide-brimmed hat.
HPV: Individuals infected with the human papillomavirus are at a higher risk for oral cancer. There are several strains of HPV, some of which are more strongly linked to certain types of cancers. To prevent HPV, vaccinations are available.
Age: Oral cancer can affect individuals of any age. However, it is more common in patients over 45.
It is especially important for patients with risk factors to undergo frequent oral cancer screenings at our office.
Gender: Statistically, men are more likely to develop oral cancer than women.
Fair skin: Individuals with light or fair skin are more susceptible to certain types of oral cancer, including lip cancer.
Poor diet: A healthy diet consists of fresh fruits and veggies, with plenty of vitamins and nutrients. Individuals with vitamin deficiencies may be more likely to develop oral cancer.
Poor oral hygiene: Caring for your teeth and gums is essential to long-lasting oral health. Those with poor dental health – particularly those who smoke and drink excessively – are far more likely to develop oral cancer.
Weakened immune system: Autoimmune diseases, such as lupus, Sjogren's, or multiple sclerosis, may increase the risk for oral and oropharyngeal cancers.
Signs and Symptoms
Oral cancer can affect any area of the oral cavity, including the lips, cheeks, tongue, gums, floor of the mouth, and roof of the mouth. Signs and symptoms of this condition may include:
Red patches (erythroplakia)
White patches (leukoplakia)
Sores or lesions on the tongue
Lumps, bumps, or other soft tissue irregularities
Hoarseness
Numbness
Difficulty chewing or swallowing
Loose or mobile teeth
Dentures that no longer fit correctly
Chronic halitosis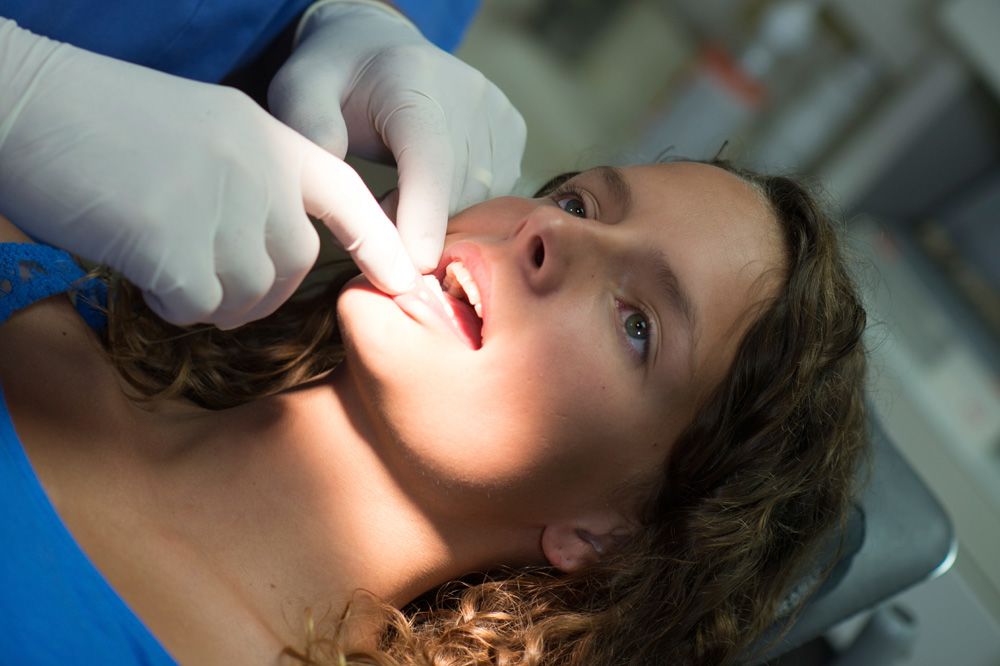 What to Expect during Your Screening
During this assessment, Dr. Wyse or Dr. Chrisman will visually evaluate the oral soft tissues and will perform a thorough exam of the oral cavity, including the head, neck, and jaw joints, to feel for any abnormalities.
If any suspicious tissue is discovered, a biopsy will be performed and the soft tissue sample will be sent to a trusted pathology lab for testing. It is especially important for patients with risk factors to undergo frequent oral cancer screenings at our office.
Benefits of Early Detection
As with most diseases, early detection of oral cancer is the key to successful treatment. Research indicates that oral cancer screenings can significantly decrease the mortality rate for patients diagnosed with the disease.
Protect Your Health
To reduce your risk for oral cancer, be sure you are receiving an oral cancer screening at every dental visit. Schedule an appointment at our practice by contacting us online or calling (309) 663-6393 today.