Dentistry Services for Your Family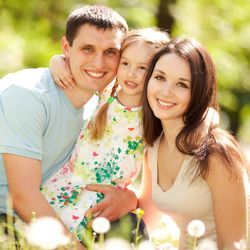 For over 35 years, our dental practice has provided Bloomington with family dentistry services of the highest quality, using the latest treatments and technology. Whether you require a hygienic cleaning, cosmetic procedure, or restorative dentistry, we will hear your concerns and help you with the best available treatment. Moreover, we provide a welcoming environment for every member of your family. Here are just some of the services we offer for patients of varying ages and needs.
Preventative Dentistry
Healthy teeth are most easily achieved through consistent hygiene and dental care. We encourage all our patients to visit us for regular dental cleanings and exams, as a preventative measure against more costly and problematic complications. We offer hygienic cleanings, deep cleanings, digital X-rays, and intraoral cameras to identify and address any signs of tooth decay or gum disease.
Younger patients can benefit from additional preventative care, such as fluoride treatments and sealants, which ward off decay. Good hygiene is best established at a young age, and as such, we welcome the opportunity to help your children get started on proper brushing and flossing habits.
As patients become involved in school sports and physical activities, they risk damaging their teeth through injury. Though store-bought mouth guards can help, they are less comfortable and effective than a customized dental mouth guard. If you are interested in keeping your teeth safe from physical injury, ask about our Under Armour Performance mouth guard technology.
Restorative Treatments
Unfortunately, not all teeth can remain perfectly healthy forever. For patients with decay, disease, injury, or other problems that require restorative treatment, the following services are available:
Tooth-colored fillings: If a cavity is detected during an exam, we offer tooth-colored fillings to restore your tooth without compromising your smile. Composite resin can be used to match the natural appearance of your teeth, while bonding to the damaged tooth and strengthening it for years to come.
Dental implants and crowns: In cases of tooth loss or advanced decay, patients can benefit from our tooth replacement options. Crowns can be used to cap a damaged tooth or replace it entirely with the support of a dental implant. Dental implants and crowns are effective ways to restore the appearance and strength of teeth before they result in further dental problems.
Dentures and bridges: Partial or full dentures are a popular treatment for older patients with multiple lost teeth. Although dentures traditionally rest on the gums, they can also be reinforced through implants for a more comfortable and reliable fit. Similarly, a bridge can restore partial tooth loss through the support of implants or remaining teeth. To determine which method of tooth replacement is suitable for you, schedule a consultation with us.
Cosmetic Services for Adolescents and Adults
In addition to restorative treatments, we offer ways to cosmetically enhance your teeth. Here are a few preferred ways for straightening or whitening teeth:
Teeth Whitening Treatment: Using BriteSmile® whitening gel, we can brighten patients' teeth in a single, short visit. The results are dramatic and long lasting. If you wish to remove surface stains and discoloration from your teeth, you can benefit from this safe and effective whitening treatment.
Invisible braces: Having straight teeth can vastly improve your smile and confidence, but traditional braces have cosmetic problems of their own. To straighten your teeth effectively but discreetly, we offer Invisalign® invisible braces to teens and adults. The results are comparable to conventional orthodontics without the hassle of having braces attached to your teeth.
Porcelain veneers: Porcelain veneers are a great way to address a variety of cosmetic issues - chipped, discolored, malformed, and crooked teeth can all be visually improved through veneers. A thin layer of porcelain will be placed on your tooth, masking flaws beneath it. This is often used as a permanent method of whitening or as instant orthodontic improvement.
Learn More About Our Services
We strive to provide the highest quality of care and treatment for each of our patients; cosmetic dentists Jay Chrisman and David Wyse are eager to meet with you and discuss your concerns. To learn more about our family dentistry services, contact us to schedule an appointment or consultation.
Related to This